To:

Send a message to Premier Ford, Health Minister Jones, and Finance Minister Bethlenfalvy
Support Access to Spine Care in Ontario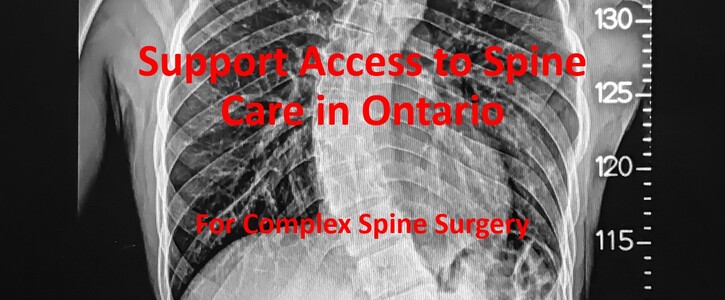 This is a pre-drafted message for people to use:
To Premier Ford, Minister Jones and Minister Bethenfalvy,
I am writing to you today to urge you to take immediate actions to address the health-care crisis reported on June 21 and 25 by the CBC national news health reporter Lauren Pelley. You must immediately address the unacceptable, ever-increasing, long wait times of years and wait lists of complex spine patients. Immediately address the inequities in the Ministry of Health's compensation process for surgeons of complex spine surgery and increase funding to Spine Care in Ontario's public hospitals to provide timely, equitable, access to complex spine surgery with equal priority given to both common and complex spine surgeries.
Sincerely,
Why is this important?
People in Ontario are forced to wait years for complex spinal surgeries in debilitating pain, suffering from a diminishing quality of life and risking life-long consequences and deterioration in function. These patients are all waiting much longer for surgery then medically recommended. Some with severe Scoliosis, with degenerative curving spines causing severe pain and limiting mobility, whose rotating rib cages, start to squeeze the very organs they're meant to protect, causing deterioration of lung and heart function.
A handful of understaffed specialized spine surgeons are willing to help but face significant barriers. The government discourages, disincentivizes, these surgeons from performing complex surgeries by forcing them to wait months or longer to be paid and instead incentivizes them to perform government prioritized common surgeries which guarantee fair and timely compensation, further lengthening the wait, pain and suffering for patients who need complex surgery.
Adding to this health-care crisis in 2022, a lack of collaboration between the Ministry of Health's adjudicators and these health providers, has resulted in unfair assessments and compensation of complex cases, consequently furthering the wait for patients and leaving some in limbo.
CBC''s Pelley interviewed 44 yr old Christine Kaschuba, mother of three, of Whitby Ontario, waiting over three years for surgery. Her spine is curved severely at 70 degrees in the shape of a C, the most common Scoliosis spine curvature. "The pain is unrelenting...while her lungs struggle to take in full, deep breaths. Most nights...she just wants to close her eyes and not wake up." (2)
My name is Karen and I am a baby boomer. I have lived in Ontario all my life. I was very fortunate and grateful to have had a complex spinal surgery to correct my serious scoliosis back in 2001 by highly-specialized spinal surgeon Dr. Stephen Lewis at Toronto Western Hospital. I believe I would not be alive today if I did not have that life-altering surgery. I did not have to wait years for the surgery and would have seriously considered suicide or MAID if I had to wait that long in such excruciating pain with a very poor quality of life. So I was shocked and extremely upset to see Dr. Lewis on June 21, 2023 on TV on the CBC national news, where health reporter Lauren Pelley reported on this health-care crisis in Ontario; (1,2)
These patients, hundreds, are being discriminated against by being denied equitable and timely access to spine surgery. Some, are just teenagers and very young adults. Ontario's Excellent Care for All Act is definitely not for all. This is not the universal health care Canadians are so proud of.
How it will be delivered
I would like this campaign to automatically send messages via emails to Ford, Jones and Bethlenfalvy with a pre-drafted message as above. So NOT one petition as the Ontario government does not recognize digital petitions.
Similar to the Leadnow campaign "Tell your MPP: Ontario's nurses deserve a fair deal"
Please help! I also have a list of sources.
I would also prefer NOT to have my last name on the petition. Thank-you!